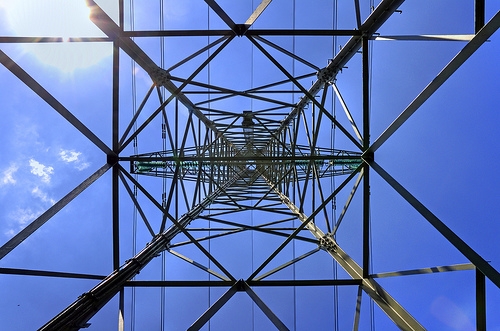 All the electric power generated from renewable energy is good – no additional CO2 is produced. Saving energy in general is also a good idea – what you don't consume, you don't need to produce. But energy savings require you to understand your own energy consumption – you can't improve what you can't measure. A simple energy cost monitor is available for 10 Euro, but it requires you to plug it into different appliances in order to figure out what a specific device consumes. And only the more expensive ones log the power consumption over time, which is pretty interesting.
An alternative to the simple energy meters are smart meters. In Germany, utility providers need to offer their customers the replacement of old (typically black) meters with shiny new digital "smart" meters. Actually, there is nothing smart about them – they just transmit the energy consumption of the household via powerline or other technologies to the utility provider. The utility provider does not need to visit the household in order to get the reading. And, in some cases, customers can have a look at the realtime energy consumption of their household.
The benefit of the realtime data is that you can assess the impact of your actual energy use very quickly. Google.org is offering the PowerMeter, which works for example with the smart meters offered by Yello Strom. An interesting open-source alternative is the Flukso.
The Flukso is a little WLAN router with some additional circuits to measure your power consumption. You install it in your breaker box. Depending on the configuration of your breaker box you need one or three current clamps. These clamps just go around the cables that supply your household – it is not necessary to re-cable the breaker box. I have a three-phase supply, so my installation consists of three current clamps and the Flukso itself. David Rowe has a nice writeup on the installation.
The Flukso then measures the power and transmits the data over the WLAN to the Flukso website. Once you're logged in you can see your own energy consumption as a realtime graph. It is quite fascinating to find out how your energy consumption is composed. Here is one of my charts: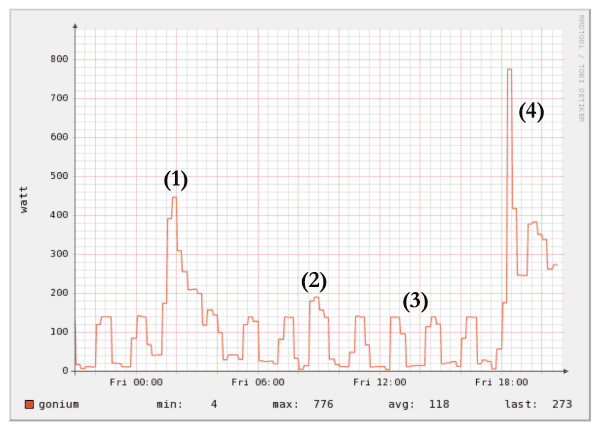 The graph shows time on the X-axis and my energy consumption in Watts on the Y-axis. The peak (1) shows that I was getting up in the middle of the night, preparing some tea and switchin on my computer. I had a pretty decent jet lag that night. In the morning I got up again around 8:00 (2). Apparently I used my coffee machine and switched on some lights, but I left shortly afterwards. The regular power consumption (3) originates from my fridge which draws power in regular intervals. Around 18:00, I got home again, switched on lights, prepared tea etc (4).
The graph is very interesting and really helps to improve your energy usage. But it also scares me – as I demonstrated above, a lot of information is stored in such a graph. Honestly, I don't want my utility provider to know this. And I definitely do not want Google to know that much about my life. Or would you like to see advertisements for sleeping pills after a night of jet lag?
The picture at the top is CC-BY BK59 on flickr, thanks!