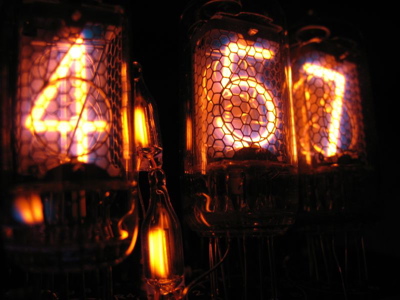 The sketch for decoding the time radio signal DCF77 is greatly improved: I use interrupts for handling the signal and a backup timer has been added.
Note that there is no interface at the moment, the time is simply put to the serial line. But it should be easy to add a display to show the time. The sketch eats roughly 6000 bytes of memory – if you want to add a user interface, you should consider buying a 16 kb Arduino ;-)
Of course, you also need the DCF77 receiver module and a pullup-resistor, as described in my old post.
You can download the code here:
BTW: The picture above shows a Nixie tube clock. I ripped the picture shamelessly from flickr, there's a photostream showing the creation of the clock. Cool project.