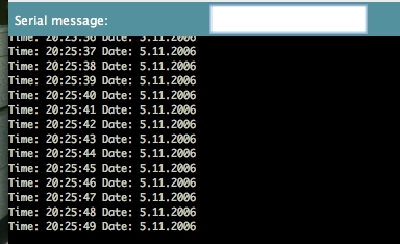 As a first sketch, I developed a little DCF77 library for the arduino. The DCF77 sender broadcasts the exact time in Germany. It uses a binary format which needs to be decoded – which is exactly what the library does.
There are others around who wrote a DCF77 decoder: I would like to thank Captain for his DCF77 code. You need to have an Arduino and a DCF77 receiver in order to use this sketch.
I use the "DCF-Empfänger BN 641138″ of Conrad. You need a pull-up resistor as displayed here: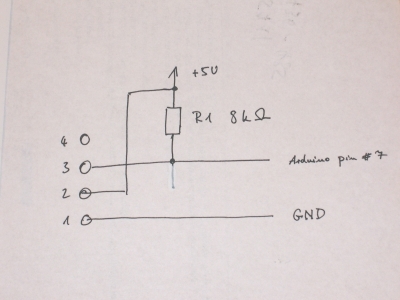 When everything is connected, the exact time is printed on the serial line. Note that this is a very early release of the software – there is a lot of functionality missing. From the README:

The current todo list is:
 * Use interrupt routines for detecting signal changes
 * Use interrupt routines to add seconds automatically
   (currently, the 59th second is shown properly)
 * Implement parity checks to prevent faulty time
   signals to be evaluated

The sketch eats up 6400 of the 7168 bytes in the Arduino. I am currently considering to upgrade my board to the ATMega 168 processor in order to have 16kb of memory…
You can download the code here:

The code is released under terms of the CC-GNU GPL.